I've seen these photos many times before, but here is the proposed story behind them.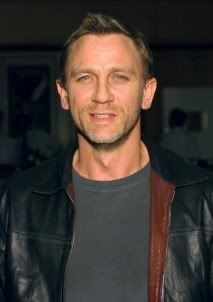 January 20, 2007
DANIEL CRAIG: ALL OVER HOLLYWOOD
Suddenly the new James Bond is all over Hollywood. Daniel Craig, looking sexy in a leather jacket, was spotted parking his Jaguar and walking into Greenblatt's deli for lunch with his girlfriend on Monday . Two days later he was seen at The Grove headed for Abercrombie & Fitch on the same day Victoria Beckham was shopping there. (Brits LOVE this store) Later the new 007 hero inexpertly parked his Escalade (another American icon loved by Brits) in front of the tiny shop Beverly Hills Juice, but his girlfriend couldn't get out of the passenger side because her door was blocked by the parking meter. While passersby watched, he reparked the jumbo vehicle. (It's not so easy when you're accustomed to small cars and driving on the other side of the street.) Once inside, the couple enjoyed wheat grass shots. Nice that he turns up in unexpected places - not just The Ivy.
Janet Charlton on January 20, 2007 4:16 PM